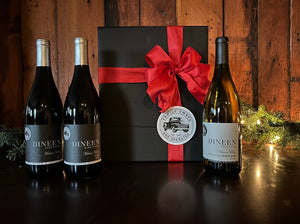 Price: $123 includes gift box. Club Discounts apply; login to access.
Our "Rhône for the Holidays" gift set showcases how our hilltop site imparts elegance, minerality and freshness into these beloved wines. Includes two bottles of our fan-favorite Syrah and one bottle of our award-winning Condriesque White Blend. Crafted of Dineen Vineyards Estate fruit with European style & complexity. 
The bold rich aromatics on this wine compliment a palate of black fruit flavors and balanced acidity. 
A dry blend of Viognier & Roussanne. Notes of white flowers, tropical and stone fruits with bright flavors and a silky long finish.